Regional Camp Out "IT'S IN TENTS"
August 8, 2018

-

August 12, 2018

Free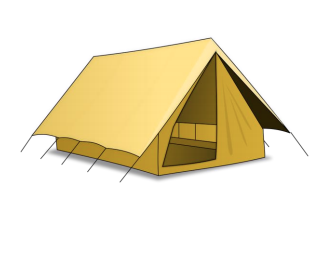 North Carolina Regional Campout I
"It's In Tents"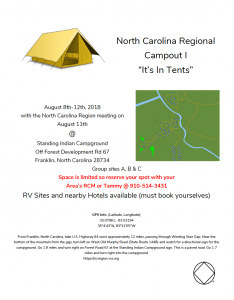 View or Download the Region Campout Flier
Date:
August 8th-12th, 2018
with the North Carolina Region meeting on August 11th
Location:
Standing Indian Campground
Off Forest Development Rd 67
Franklin, North Carolina 28734
Group sites A, B & C
Space is limited so reserve your spot with your
Area's RCM or Tammy @ (View information in attached flyer)
There are also RV Sites and nearby Hotels available (must book yourselves)
GPS Info.
Latitude, Longitude):
35.07861, -83.53194
35°4'43″N, 83°31'55″W
Directions:
From Franklin, North Carolina, take U.S. Highway 64 west approximately 12 miles, passing through Winding Stair Gap. Near the bottom of the mountain from the gap, turn left on West Old Murphy Road (State Route 1448) and watch for a directional sign for the campground. Go 1.9 miles and turn right on Forest Road 67 at the Standing Indian Campground sign. This is a paved road. Go 1.7 miles and turn right into the campground.